Contact Us
Tillman T. Blakely Service Center
Address:
1361 Zebulon Road
Griffin, Georgia 30224
Phone: (770) 227-4556
Fax: (770) 227-9125

Service Center Hours of Operation:
Monday - Friday: 8:30 AM till 5:00 PM

Click here for information about our Scout Shop
Lawhorn Scouting Base
Welcome Center/Camp Thunder:
506 Thundering Springs Road
Molena, Georgia 30258
(706) 647-9539 May 15 - July 15
(770) 227-4556 year round contact
Flint River Adventure Area:
1166 Dripping Rock Road
Molena, Georgia 30258
Our Staff:
The Boy Scouts of America strives to instill in young people the principles of integrity, character, responsibility and leadership - preparing them to make ethical and moral choices over their lifetimes. The Flint River Council's goal is to provide a quality, dynamic program of learning and adventure that builds well-rounded young people.

The Flint River Council is composed of eight counties (Butts, Coweta, Fayette, Henry, Lamar, Pike, Spalding and Upson) and serves over 9,000 youth and adult volunteers. To keep Scouting going and growing in the counties we serve, make a donation today
.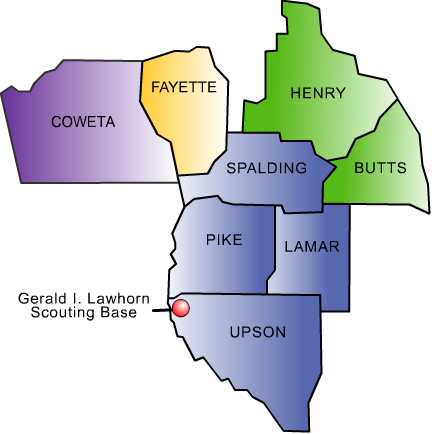 The Lawhorn Scouting Base is one of the premier high adventure bases and provides camping experiences for Scouts from all over the United States.