Friends of Scouting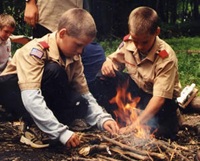 What is Friends of Scouting?
The Friends of Scouting Campaign supports the greatest youth program in the world. It is an important source of funding for the programs of the Flint River Council, Boy Scouts of America.

The Importance of Honor
A Scout's honor is to be trusted. Honor is more than just being truthful - it is a part of our character - a foundation for life found in the Scout Oath and Law.

Building Character
"On my honor, I will do my best to do my duty...". These words are not shared enough with today's youth. Yet, they are weekly experiences for our Scouts. Scouts in the Flint River Council repeat the Cub Scout Promise, the Scout Oath and the Venture Code each time they meet. They explore their meaning and put the values into action in their daily lives.

Better Citizens
"...to God and my country...". Scouts gain a better understanding and insight into their community, nation and world, never losing sight of their American heritage, and their duty to God and to their fellow man.

Service to Others
"Do a good turn daily" is a slogan that benefits others in countless ways. A Scout is concerned about other people. They do things for others without pay or reward. This past year, Scouts in the Flint River Council provided tens of thousands of service hours enriching lives and the communities in which we live.

Tomorrow's Leaders
"Be Prepared." It's not just a motto. Success favors those who are prepared. Scouting gives young people the skills and moral integrity to meet the challenges of life in an increasingly complex world. Scouting teaches leadership, discipline, teamwork, goal setting and the value of leadership.

Scouting's Bottom Line
Here is what it costs to provide the Scouting program in the Flint River Council. Total Budget: $2,161,807

Levels of Giving and Recognition
Your gift will fund the Scouting program for youth in Butts, Coweta, Fayette, Henry, Lamar, Pike, Spalding and Upson Counties. Scouts are served by over 2,600 volunteers and a staff of 15. Your gift also helps the Flint River Council provide quality programs at the Gerald I. Lawhorn Scouting Base, training to adult leaders and maintenance of the Tilman T. Blakely Service Center and camp properties. With your support, we are able to reach out to youth and families living in at-risk environments that would not have an opportunity to join Scouts and are served through Scoutreach programs throughout the Flint River Council.
Contact Rachel Moody at 770-227-4556 or

her.