Flint River Scout Shop
Flint River Council Service Center

1363 Zebulon Rd., Griffin GA 30224
(Lower Section of the Flint River Council Service Center)
Phone: 470-481-1064
Email: FlintRiverScoutShop@scouting.org
Follow us at https://www.facebook.com/BSAFlintriverScoutShop/

Hours of Operation
Monday-Friday 10:00 am - 6:00 pm
Monday-Friday 2:00-2:30 Closed for Lunch
Saturday: 10:00 am - 2:00 pm
Sunday: CLOSED

HOLIDAY HOURS
Thanksgiving: CLOSED 11/25/2021 thru 11/26/2021
Christmas: CLOSED 12/24/2021 thru 1/1/2022


A Holiday Giving Tree (similar to an Angel Tree) will be set up at the Scout Shop with Holiday Giving Cards on it. Each card will have the first name of the Scout along with the uniform items they need. There will also be a space for other items they may want such as books, crafts, camping items etc. Customers and Scout supporters can purchase the items in their local Scout Shop and give them to the store staff to collect for each child. If you would like to help donate to this cause, reach out to the Flintriverscoutshop@scouting.org.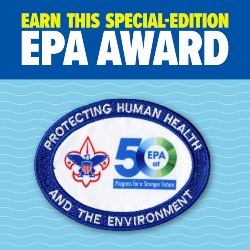 There is a new award available. The Boy Scouts of America and the EPA - Environmental Protection Agency, teamed up to create a special award to encourage BSA Scouts to protect the environment by completing environmental and community health focused merit badges and participating in a service project. There is a two page form that must be filled out and turned into the shop. We will receive only 96 of this emblem sometime this week and look forward to seeing everyone who earns it.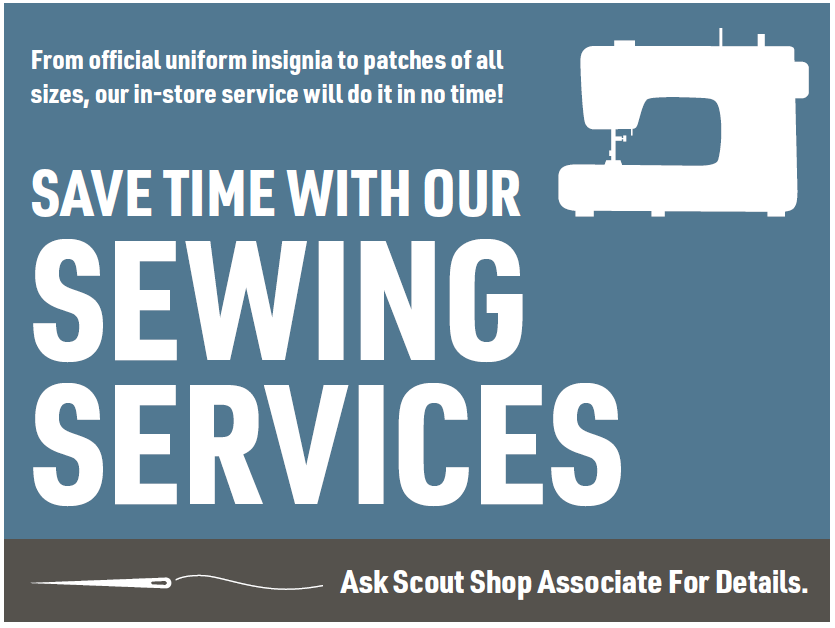 Let the Flint River Scout Shop handle all of your sewing needs! You can drop off your sewing or if we are not too busy, we can even sew as you wait. Otherwise, all orders dropped off takes between 1-3 business days..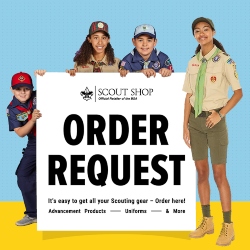 We are excited to announce that we have created a new shopping request form for you to purchase any of our 600 Uniform and Uniform related products online.
Like our Cub Scouts and Scouts BSA Advancement forms, you can select the items and have them gathered, bagged, and set aside for you to pickup in-store, contactless curbside, or have the items shipped directly to you.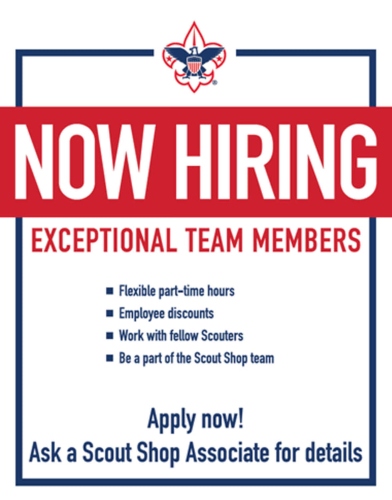 We are Hiring! The Flint River Scout Shop is currently looking for new Part Time Sale Associates to join the team here in helping scout family get what they need throughout the year. For more information on how to apply please email the Flintriverscoutshop@scouting.org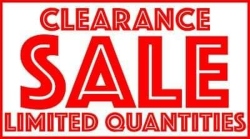 ---
*SHIPPING*
Can't come to us? We can ship to you! FedEx 2-day
Contact the Scout Shop for shipping cost information.
Email your monthly awards reports to the Scout Shop at least 24 hours in advance, and we will have the order pulled and ready for you to pick up.