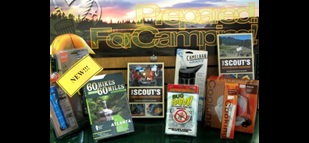 Are You Prepared For Camping?
The Griffin Scout Shop is gearing up for a new camping season.
We have new literature and supplies for your best camping experience.
* Interior Framed Backpacks
* Sleeping Bags
* Camp Chairs
* Mess Kits
* Vittles Kits
* Knives

Show your appreciation to your adult leaders! We have plaques, certificates and gift items.

The Flint River Council Scout Shop is your complete one-stop Scout Shop. Tiger Cubs/Cub Scouts/ Webelos Scouts/Boy Scouts Uniforms, Insignia, Badges, Flags & Accessories , Literature, Awards, Banquet Supplies, Crafts, Camping Equipment , Gift Items, & Much More....

Can't make it to the Griffin Scout Shop? Contact our Scout Shop for mail orders at 770-227-4556.
Shipping charges apply for mail orders.
Address:
1361 Zebulon Rd.
Griffin, GA 30224

(770) 227-4556
FAX: (770) 227-9125
Hours:
Mon.-Thurs. : 8:30 AM - 6 PM
Friday: 8:30 AM - 5PM
Saturday: 9 AM- Noon