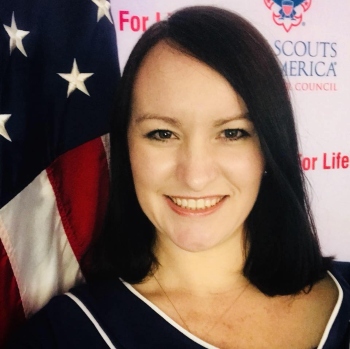 Rebekah Florence is the eldest of 5 children and was born and raised in The Dalles Oregon. In High School, she was part of a local community Youth Action Council where she ran events that helped provide activities for youth. She was also heavily involved in high school and community theater and choir, as well as the yearbook staff. Her first job was working for an insurance company in her community. She held that job for the full 4 years of high school. Her senior year, she was granted the title of Cherry Festival Queen where she helped promote the Northwest Cherries Growers Association within The Dalles. Upon graduating HS with honors, she joined the Army where she served for 8 years in the field of Nuclear, Biological and Chemical defense. During this time, she was placed at Ft Riley Kansas, where she became the President for the post of the BOSS program, otherwise known as "Better Opportunities for Single Soldiers". She served in this position (and other similar positions leading up to it) for 4 years. Rebekah met her husband, Ron Florence at Ft Riley Kansas as well and they were married (on roller skates) in 2000. Their son Bradley was born the following year. In 2001, Rebekah moved to Georgia where they made their home with their infant son. In 2003, Rebekah was deployed to Iraq in support of Operation Iraqi Freedom, where she served for nearly a year and half.
Rebekah graduated on the Dean's list from Westwood College of Technology in 2008, with a B.S. degree in Visual Communications. She began freelance marketing and design work in 2007 while still in college, where she provided marketing and advertising materials to a wide variety of companies. This continued until 2015, when she was hired as the Flint River Council, Ronotohachi District Executive. In 2007, Bradley begin Cub Scouts as a Tiger Cub, which of course meant that Ron and Rebekah became scouters. Rebekah served in many positions in the Pack, Troop and District, culminating with her position as the Ronotohachi District Commissioner. Rebekah attended Wood Badge in 2014 and received her beads in October 2015. Rebekah was also nominated for the Order of the Arrow and went through ordeal in 2014.
Ron, Rebekah and Bradley live in Concord GA, which is within Pike County. They have been members of Woodbury Baptist Church in Woodbury Georgia where their extended family attends and serves, since 2003. Ron also has an older son, Nicholas, who resides in Pensacola Florida with his mother. Rebekah deeply loves the Lord and with His grace, considers serving youth her lifelong mission in order help develop and strengthen our communities and country. It is her true honor to be granted this gift and she will use it to serve Him to the best of her ability.