Camp Thunder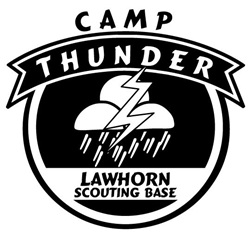 2018 Summer Camp Info
We are looking forward to 2018 and as always, we have a great selection of merit badges, our first year Scout program, fun and exciting activities, and high adventure opportunities for older Scouts.
Camp Thunder is the traditional Boy Scout resident camp at the Lawhorn Scouting Base. The camp operates 6 sessions during the summer months.
Register by clicking on the links below or contact the camping department at 470-481-1057 or Lawhorn@Scouting.org
Week 1: June 3 - June 9
Week 2: June 10 -16
Week 3: June 17-23
Week 4: June 24-30
Week 5: July 1 - 7
Week 6: July 9-14 (Monday Check in to accomodate LDS units - all types of Units are welcome but this allows our LDS Scouts to experience all that summer camp has to offer)
Click here for a copy of the2018 Summer Camp Leader Guide.
Contact 770-227-4556 or Lawhorn@scouting.org

for more information or to register.